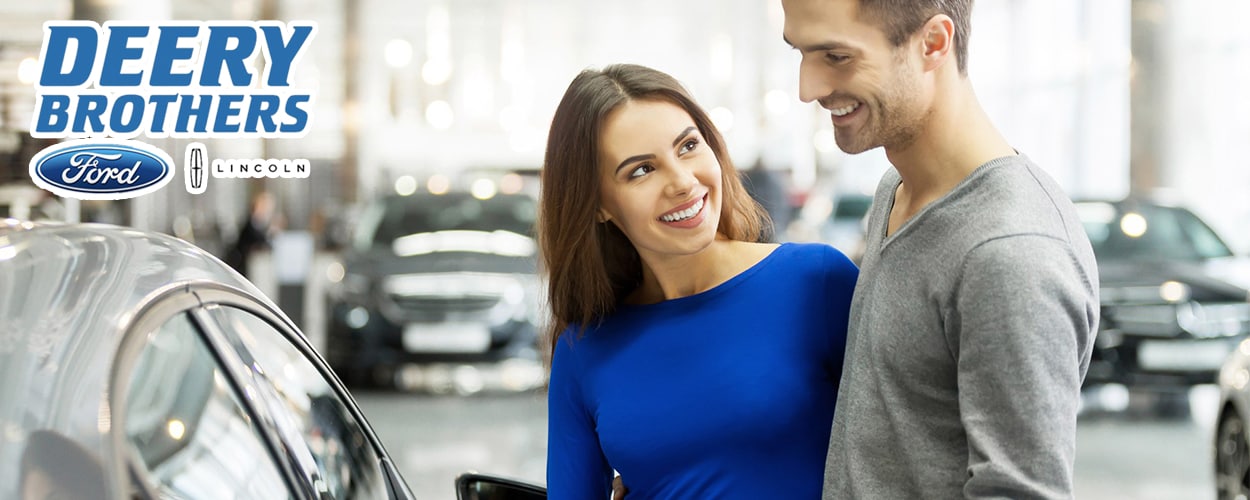 It's a question we get all the time:
Why buy the Ford F-150?
The full-size pickup truck segment is possibly the most competitive in the US, and they rank among the best-selling vehicles in the country. It's hard to deny the appeal and utility of the classic American pickup truck, but aren't they all pretty similar when you get down to it?
Not quite.
Read on to find out if the Ford F-150 really deserves to be the #1 vehicle in the US, or if it's just hype.


What is Ford Tough?
You see it in all their ads: "Built Ford Tough." But does it really mean something? Or is it just another marketing slogan?
To answer that, you have to look at the F-150's construction and capabilities.
The Ford F-150 features an innovative aluminum construction, which shaves hundreds of pounds off its weight. That means that it's much more responsive when driving, but the aluminum also increases the overall strength of the F-150's frame. There's a reason that Ford F-150 owners are some of our most satisfied customers. It's because Ford's aluminum build is not a marketing ploy. It's a serious advance in truck design.
We all know that the truck-buying experience includes looking for great deals, and we've had some customers ask us about the price of the Ford F-150. Why were they able to get a bigger discount on some competitors? To answer, we point to the F-150's build quality. Many competitors are still using heavy steel construction, and some have even maintained the same design over several years.
But times have changed.
Pound for pound, the F-150 provides more power, a better driving experience, greater efficiency, and a wealth of other benefits due to Ford's willingness to drive innovation. Sure, the current F-150 has cost Ford more money to develop and produce than some competing trucks, but the result is simply a better truck. Like Ford, we believe the investment was worth it.


The Importance of Performance
We've all been there: You're on a job or trying to meet a deadline, and something goes wrong. You hear a creak, and all of a sudden your most important tool becomes a cause for concern. Ford knows that feeling, and does the torture-testing so that you don't have to.
All of Ford's trucks are rigorously, even cruelly tested in the harshest condition for hours on end. Every aspect of their performance is pushed to the absolute limit. A big reason why our customers choose the Ford F-150 is its uncompromising performance, and that's evident in real-world use and in the numbers.
To this day, no competitor has been able to match the F-150's massive 13,200lb towing capacity, nor its max payload. When you buy a Ford F-150, you're buying the most powerful, most trusted pickup on the market today. Why buy the F-150 if it's more expensive than a competitor? Quite simply, because you're getting a better vehicle across the board.


A Family-Friendly Beast
We've had customers ask us, "Why would you buy the F-150 as a family vehicle?" One of the first things that comes to mind is safety.
The F-150 not only has a vast array of safety technology, it also tops the market when it comes to crash test ratings. If it were our family, we'd choose the F-150 over other pickups in a heartbeat, even if it were a bit more expensive. That's because there's no value you can put on your family's safety, and Ford puts them first every step of the way.
Its light aluminum construction also means that it's easy to drive the F-150 around town, making it one of the most driver-friendly trucks on the market. We've had customers be absolutely shocked by its drivability, comparing it to much smaller vehicles. Though you might not think you'd buy a Ford F-150 as a family vehicle, more and more families are doing just that.


Still Not Convinced?
We know a full-size pickup can be a real investment, and there is a lot to consider in that decision. Read any roundup of pickup trucks, and you'll find plenty of recommendations for the Ford F-150. But when our customers ask, "Why buy the Ford F-150," they aren't going to make a decision just because someone told them to. But no matter what kind of deal you find on another pickup, you owe it to yourself and your family to try out the Ford F-150.
For many, the F-150 is the perfect storm of features and quality, but even more important is that dollar-for-dollar there's just no equal on the market. But, our philosophy is to let the customer decide. We're just here to make sure that whatever vehicle they choose, they'll be happy with it for years to come. We've got some great F-150 models in stock, which you can check out below. There are also some really great financing options, and you can easily get a quote on your trade-in. Then all you need to do is come on down and give one a try. Why buy the Ford F-150? Most of our customers will tell you it's because it's the best truck they've ever driven.